SIERRA LEONE – Fambul Tok
Trauma Tapping in Sierra Leone
Women of Moyamba, Kono, Koinadugu and Kailahun benefited from the Trauma Tapping Treatment introduced by the team from Sweden (Gunilla and Robert). T.T.T. was timely and the women who were victims of the war appreciated it very much. The aim of the training was achieved as it was very much welcomed by women who were victims of rape and those who witnessed the killing of their husbands and children etc. They also understood the fact that the T.T.T.should not be misunderstood for medical treatment of other ailments but specifically for trauma. This treatment, the women stated, will spread throughout their chiefdoms.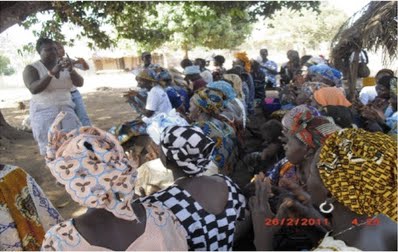 T.T.T. training in Moyamba
QUOTES
To prove the appreciation of this treatment here are some quotes from the women in the various districts:
Koinadugu
"I have relief, now that I have got this kind of training, and I will introduce it to my family and others".
‐ Fanah Faroh in Koinadugu village, Koinadugu section Sengbeh chiefdom.
"Women are greatly affected during the war, but this kind of training will bring relief to the women and it will help us regain our dignity". Mbalia Koroma chairlady Peace mother Heremakono village Heremakono section wara wara Yagala chiefdom.
Kono
"Fambultok has helped to build our homes and now thy have brought medicines for us"
By Bondu Joe Mande – Chairlady – Peacemother
"Trauma TappingTreatment has healed my long‐term stress. Thank God for fambultok"
– Cecilia Johnbull – Teikor
Moyamba
" What a good medicine, we never knew about in this country"
– Sallay Robert – Baoma Johnson
"If this medicine has been with us no woman will get frustrated"
– Abie Alie ‐ Kapuima
Kailahun
"This training is worth hundred times compared to money given to us in the community"
Mrs. Agnes Micheal – Siama Community
John Caulker
Executive Director
Fambul Tok International | Fambultok.org
Global Program Headquarters 47 Robert Street, Freetown, Sierra Leone
O +232 88-500500 | M +232 76-603038 | F +232 22-229770 |

 Email hidden - JavaScript required
www.fambultok.org